When it comes to fishing, skiing, over-nighting, or day cruising, you must have a boat. To make our souls free and refreshed for a while, a long trip into the water could be an excellent option. But when you are out there in the water with your boat, you must prepare well to avoid any unexpected situations. The best way to ensure safety is by having the proper marine safety equipment onboard.

Keeping necessary security gears should be number one on your priority list. In this article, we will be talking about what security gears you must have in a boat. So, let's get started.
Essential Safety Gear to Keep on Your Boat
Once I heard someone say," An ounce of prevention is worth a pound of cure." When you plan to go out there in the water with your boat, you have to be well prepared to deal with unexpected scenarios. 
Most importantly, you need to have your marine safety gear on your boat. In this section, we will have a clear discussion about those gears.
 

Life jackets and wearable personal flotation devices (PFDs)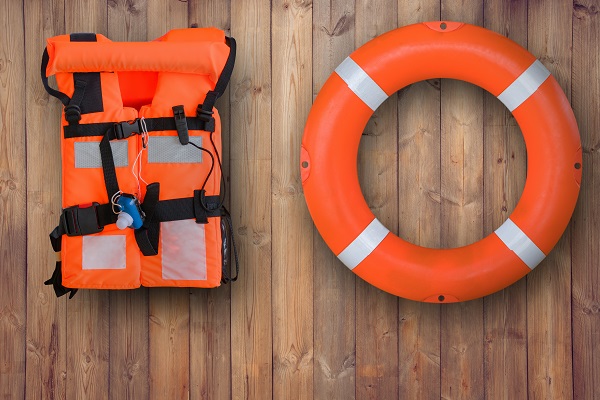 A wearable PFD is a must-have equipment when you are in the water on your boats, Fishing Kayak  and Ocean-going vessels. It doesn't matter whether you know how to swim or not, you should have it. If you have someone else on the boat, you should have one for each person. And if you have kids under 12 onboard, make sure they are always wearing it.
If you get to encounter any dangerous situation, first and foremost, you need to make sure all the passengers have put on their life jackets. You might want to get one also for your pet.
 

Throwable flotation devices
A life jacket is a must, but besides that, you also need to keep at least one floatation device. So, in case anyone gets into trouble, you can throw it to them.
It could be a ring buoy, cushion, or other devices. It is best if this device is attached to the boat  by a rope so that you can pull them back in once they have a hold of the item.
 

Fire extinguishers
You will find different sorts of fire extinguishers in the market but to keep straightforward, keep that in mind, boats under 26 feet require minimum B-1 type extinguishers and boats that are between 26-40 feet require two B-1 or B-2 type extinguishers. 
If you get to take your family on the boat often, then you have to train them on how to operate the extinguisher. It's not rocket science; just pull the pin, squeeze its handle and spray at the base of the flames.
 

Visual Signaling Device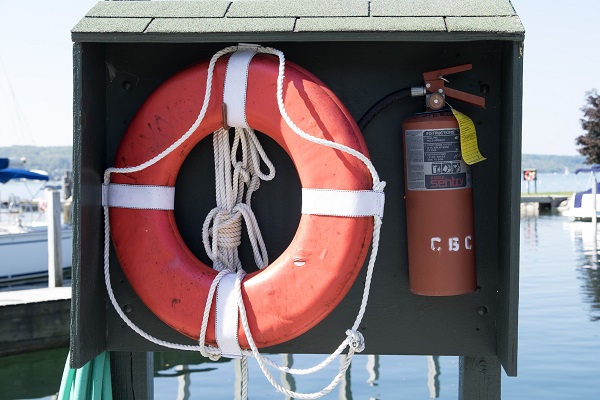 Another essential piece of equipment you should keep on your boat is a visual distress signal device. They come in various packages, and the requirements depend on the size of your vessel and the location where you will go boating. If your boat is under 16 feet, then you can just keep flares or nighttime signals.
And if it's above 16, then you must have visual signals for both night and day. For example, pyrotechnic devices or flares that create orange or white smoke and aerial light flares. 
Some flares don't require a flare gun to launch, while some do. Other types of nighttime devices include strobe lights and flags. Use the flag in the daytime and the strobe lights at nighttime. Remember, you won't be able to operate the PWCs between sunset and sunrise. So, they won't have to take nighttime devices.
 

VHF Radio to Call for Help
Carrying a Marine VHF radio handheld is a must while you are out there in the deep water with your boat. It allows you to communicate with a wide range of networks and people such as the coast guard, bridge tenders, commercial ships, towboats, the Rescue 21 networks, race committees, and other organizations.
Most of their models come with a waterproof and floating design. So even if they get wet, you will be able to use them. Their rechargeable battery lasts around 8 to 15 hours.
  

Basic Cleaning Supplies
Even if you have cleaned your boat while it was at the dock, still, you should keep some boat soap, a scrub brush, and a soft rag. Stuff like food sauces, wine, juices, or fish blood will leave ugly marks on your boat if you don't clean them right away.
12 Should-Have Marine Safety Equipment for Your Boat
Here are some additional recommended items for your boat. You have to select the items based on the type of your boat and boating locations.
Anyway, here's the list:
First-Aid kits for scrapes, cuts, seasickness, or small emergencies

Bailing device, bucket, or any plastic objects that float to keep you stay afloat.

An anchor with a line to keep your boat in place

Paddles or oars if the engine quits.

Smartphone to call for help. You can also use it as a GPS guide and Google Maps is incredibly helpful if you are close to the shore and still have a signal.

VHF radio to call for help

Knife to cut stuff.

Snorkel mask to check out what's going on under the boat.

Heavy-duty flashlight.

Skier or diver down flag

Working running lights equipped with your boat.

To get a weather update, you can take the radio.

 
Final Words
Going on a long boat ride deep into the water with your family, friends or, the partner is a moment to remember. To make sure you can enjoy those beautiful moments wholeheartedly, you need to prepare your boat and yourself to face all the worst-case scenarios.
And when it comes to preparing the equipment, what we have mentioned above is something that will keep you safe like a guardian angel. 
For more information on the marine safety equipment required for boats check out the Californian Division of Boating and Waterways page here.
Before we sign off, let us remind you one important thing, if you have to go far away from the shore, you should let the authorities and someone who knows you know your coordinates.  Doing so means that if things go south, they can locate you quickly.
Some of the links in this article are "affiliate links", a link with a special tracking code. This means if you click on an affiliate link and purchase the item, we will receive an affiliate commission. The price of the item is the same whether it is an affiliate link or not. Regardless, we only recommend products or services we believe will add value to our readers. By using the affiliate links, you are helping support our Website, and we genuinely appreciate your support.