See our complete list of San Francisco Bay anchorages for a more detailed listing and a chart showing the locations of the anchorages.
Protected Anchorages
Ayala Cove on Angel Island is the most protected anchorage in the entire central bay area. There's no real anchorage here, because the small cove has been filled with docks and moorings. You can use the docks only during the day ($10 fee for all or any part of the day), but you can stay on a mooring overnight ($20 per night May 15 – Sept. 15, and $15 per night the rest of the year).
Richardson Bay, between Sausalito and Belvedere, is the anchorage closest to the Golden Gate. It has space for hundreds of boats. While not fully protected from wakes and chop, in most weather it is quite comfortable.
Clipper Cove is between between Treasure Island and Yerba Buena Island, facing Berkeley. This is a favorite anchorage of many bay sailors because of its central location and good protection. It is open to the east, but relatively few ships go east of the island.
Lunch Stops
These anchorages are not as well protected as the ones listed above, but they still make great lunch stops. Many can be used overnight if the weather is calm and you can tolerate some wakes.
Belvedere Cove is a small, lightly used anchorage area between Belvedere and Tiburon.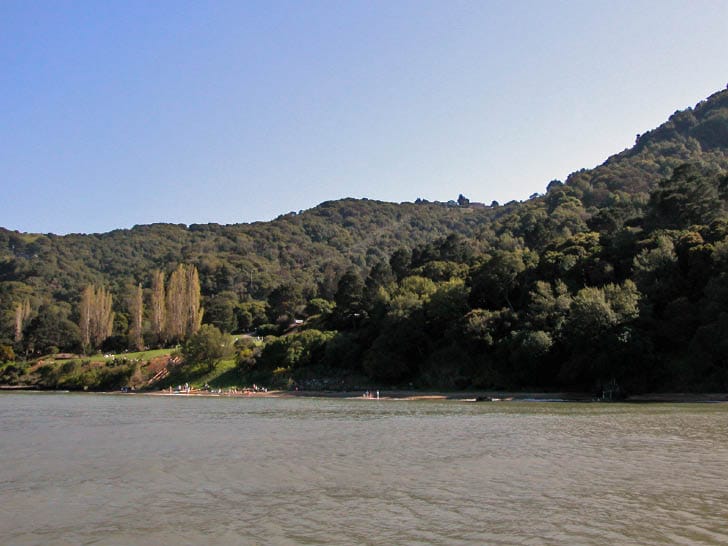 Paradise Cove is a long, pretty anchorage. It is the first cove along the east side of the Tiburon peninsula, as you head north around the corner from Tiburon. There's a beach you can visit by dinghy. It can be rolly, though it usually calms down after dark making it comfortable overnight, except for the occasional large wakes from passing ships.
The anchorages along the east side of Angel Island are usually protected from the swell and chop but are subject to occasional large wakes from passing ships. They are much less crowded than Ayala Cove, which can be a big attraction on summer weekends.
At the north corner is China Cove, a pretty anchorage that is often empty during the week but can hold as many as a dozen boats. It is quite close to Ayala Cove, making it a popular alternative if the cove is full.
The two long coves south of China Cove are often nice lunch stops but are more exposed in some weather conditions.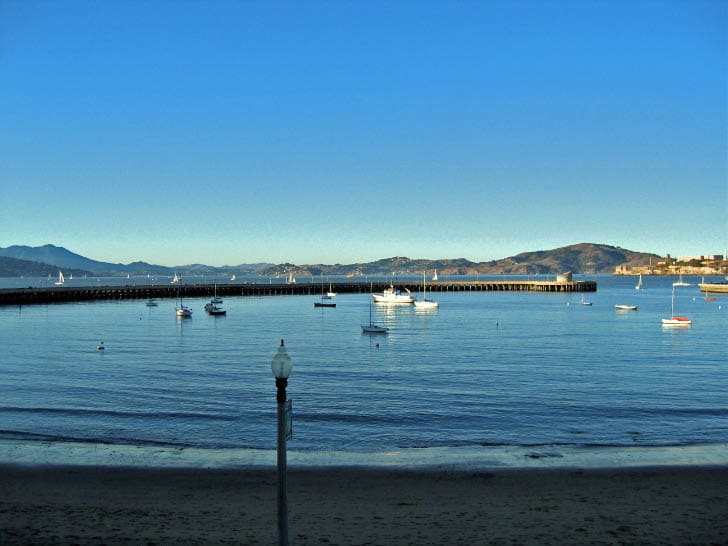 The bay on the south shore of Angel Island offers great views of San Francisco, but it is too unprotected for use in typical weather conditions. If the weather is calm, it makes a beautiful lunch or sunset stop.
The San Francisco waterfront offers only one protected anchorage: Aquatic Park. It is closed to all vessels under power, however, so it can be used only by sailboats. There is a small anchorage outside the breakwater to the west, but it is rolly in most conditions and can be very uncomfortable in some weather conditions.